SERVICES. PRIVATE & CORPORATE (Spiritual)
We provide a range of services consisting of Psychic, Clairvoyant and Tarot card readings for private individuals and corporate accounts.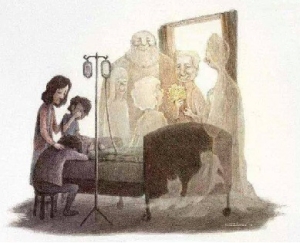 Our aim is to bring heart sent messages to you from your loved ones in Spirit and psychic information about individual's lives. Promoting love, awareness of the after life and a mixture of upliftment and hope that life is eternal for us all and that physical death is not the end. Although we both believe this is serious stuff we always work with some humour as the Spirit world love to hear laughing and it adds so much to the energy we need. Heart Sent Messages is not just Colin and Annette but also a team of professional and competent psychic/mediums who can provide amazement, entertainment and wonder.
One to one hour long private readings either at our residence or the client's.This includes both of us combining to give a psychic and a mediumistic reading while being recorded on a CD for the client to keep for future use. Readings will be preceded by an informal chat outlining briefly what will happen and also after the reading to discuss what was said. We can offer a double reading only if both sitters are from the same family.

Psychic parties at client's residence. Mini readings are offered to a minimum of 6 people and up to a maximum of 9—10. Everyone will be in the living room and enter another designated room one by one where we will give a partygoer a 20 minutes reading. Recordings can be made on personal mobile phones during the reading. After everyone has had a reading we will spend time chatting informally about any subject covered that evening.

Psychic HEN and STAG nights can be arranged either at the bride or groom's residence before everyone departs for the evening's celebration or at the celebration venue itself. This is a fun way to start the night off successfully.

Psychic interludes are offered during private gatherings such as meals at restaurants between 2 to 8 people where for up to 30 minutes at the start or end of your meal you can get brief psychic messages given at random to provide your group with a memorable night of fun and amazement.

We also organise and take part in public and private demonstrations of Mediumship with other top mediums; at your home or bigger venues.

We run workshops for groups of up to 30 students who wish to learn more about their own abilities working with the Spirit world and a chance to practice with other people of like minds who wish to grow and progress with their psychic and Spiritual communication.

Private tuition is offered to any individual who wishes to learn to be a psychic/medium either at our residence or in the comfort of their own home.

We can organise Spiritual marriages, humanist non-religious marriages and both those types of funerals too. We are also well practiced in Spiritual naming and hand tying ceremonies.

We can also provide a non—spiritual service with heart sent messages being composed by us, typed and framed for all your happy and sad occasions. We will either hand the message over to you to read to your loved one(s) or we will arrive at your location and read it out to your loved one(s). We truly
believe there is an alternative to flowers and cards that will emphasise even deeper your feelings and that is what we offer. A personalised service which will impact on what will be a special occasion. For example: During an intimate evening with just two people. A small gathering at a client's residence for a special birthday/anniversary party. At a large reception of any sort. We can provide a message during the wedding service or during the funeral service. For more details see the separate section.

In conclusion we can cover a multitude of situations that would involve the need for love to be expressed by one party to another in all types of happiness and sadness. When you cannot do this yourself let us do it for you and allow HEART SENT MESSAGES to make any occasion SPECIAL.
Please note that all consultations and advice we give are FREE.
Just contact us. No responsibility is accepted for anything we say which is only our opinion about Spirit and Paranormal matters.
Eu Law states and dictates that all psychic/mediumship readings are for entertainment purposes only.